I think I have my hand in too many pots this month. I totally forgot about some homework that was due on the 26th. I finished it today, the 28th. Ooops. I was totally late. Looked at my syllabus for my class (addiction studies) and I have to find time to go to AA next week and write a paper on my experience before the 10th. I have put important things like that into my phone calendar.
I also have a few product reviews and giveaways to do here on the blog that I am kinda late on, and I may cancel some things to get some other things done so I don't overwhelm myself. You can't say Yes to everything. I have to focus on one thing at a time, and plod away to get things done.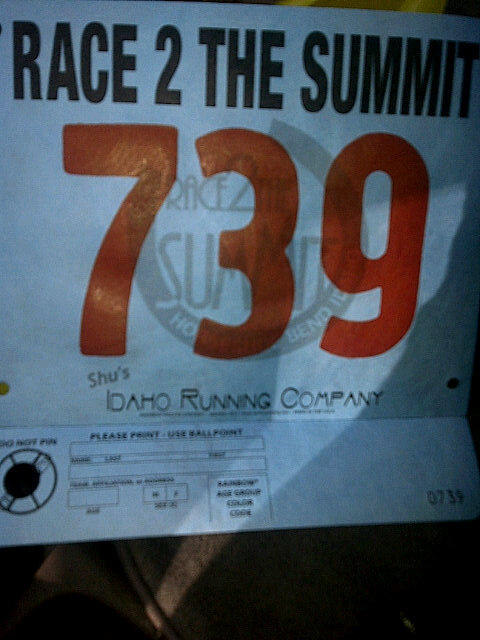 This weekend is going to involve lots of plodding. TWO half marathons! I am excited about the challenge. Yesterday was packet pick-up for Saturdays race. I didn't get my shirt because I got my entry just a few days ago. If there are some available at the finish, I will get it then. I got to sign a clipboard because this is a small town race, and this is the first year doing it. They thought that it would be fun for everyone doing this years race to sign a clipboard that they will use in the future years. I thought it was a sweet thing to do. I signed my name in pink in the upper right corner. I didn't get a pic at the time. In my goodie bag, I got my bib number, lots of flyers, a baggie of granola, a coupon for a free Subway sandwich, a BOGO for the Thunder Mountain Line, sunscreen, Spider Tech tape sample, pencil, Laffy Taffy & a coupon for the Sonora Mexican Restaurant. Oh, and a race sponsor doing pictures will give you a free race print. I have never heard of anyone doing that before in a race, so I am pretty excited I got a new outfit to wear. Fingers crossed I don't have a horrible pic taken!
And SUNDAY'S half marathon will have wine on the course! The directors had to modify the route because the transportation dept. didn't want to have wine-ing runners on a highway.
Anyways, lots of stuff to do. Next biggest decision will be what to have for pre-race dinner. I usually have pizza, but this tweet makes me think that I should do something else.
But maybe use this recipe instead. Or maybe I will go to Chik-Fil-A and get a sandwich. Or maybe just order pizza?
What is your pre-race dinner? Have you ever had a race give out a free print? What do you do when you say yes to too many things?