Saturday afternoon was bib & chip pickup for the City Of Trees Half & Full Marathon.
I am doing the half. So far, it is the last race I am registered for, for this year. I may do a Turkey day & Xmas race & maybe the new years day run again, but not sure on anything yet.
Anyways, I got my bib today and instead of a shirt, I got a jacket. It was why I signed up for the race series. But, eh, the jacket is ok. There is no stretch to it, so getting it on and off is strange, but I think I may like it better then the shirts because I never liked the necks of the shirts. They were always too small. And this does have small little pockets in the sides. Not zippered but at least it's something.
No hat! I was having a good hair day!
I could have hydrated a bit more on Friday & Saturday, but oh well.
I did make a nice pear puree & ginger simple syrup with a bag of organic fruit I was given this week. I am not a fan of eating pears because I don't like the texture, but I love the flavor. The BF isn't a fan of pears for the same reason either. I can't find the site that I found this recipe on because I printed it out somewhere other then home.
1/4C sliced, peeled ginger
1C sugar
1C water
Combine in a small saucepan. Boil, cool, strain ginger solids and store syrup in airtight container. 

4oz vodka (I used half plain Absolut, and half pear Absolut)
1oz fresh lemon juice
1oz pear puree (I boiled 2 chopped pears with water & sugar. Pureed in a blender)
Ginger Ale

Place pear puree into glass. Add vodka, ginger syrup, lemon and stir to combine. Add ice and ginger ale to top of glass. 
I had one while the BF fixed his bike tire.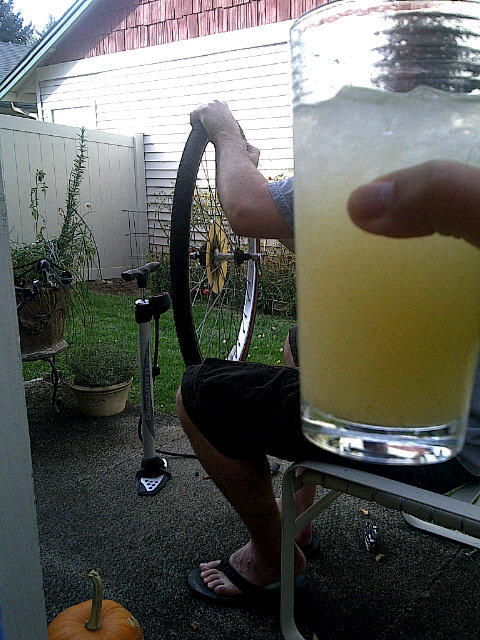 Then we went for Mongolian. Yeah, carb loading!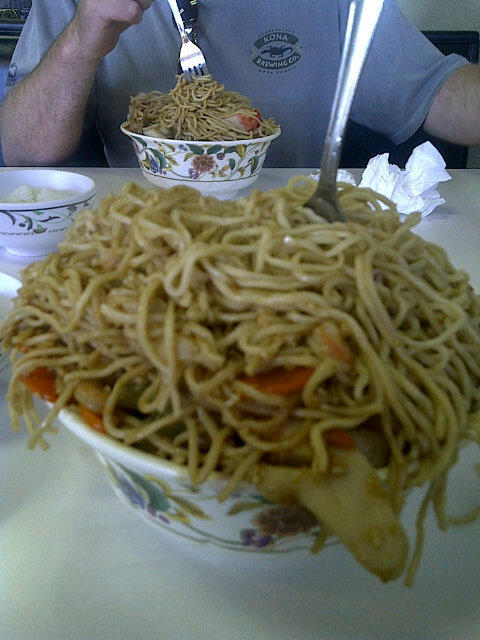 I didn't eat all that but it was sure tasty with all the Krab and shrimp.
I kinda had a gut ache from all the yummy noodles. I should have stuck with my pre-race pizza. I didn't sleep very well because my digestion kinda kept waking me up. I slept a bit more then 6 hours. I may have gotten close to 7 but I was so freakin' tired in the morning, I actually hit my snooze button.  I did get up & have a half cup of coffee but I didn't feel like eating anything. I sipped on a lemon Hydro until the start of the race. I also took 2 vanilla Accel gels with me.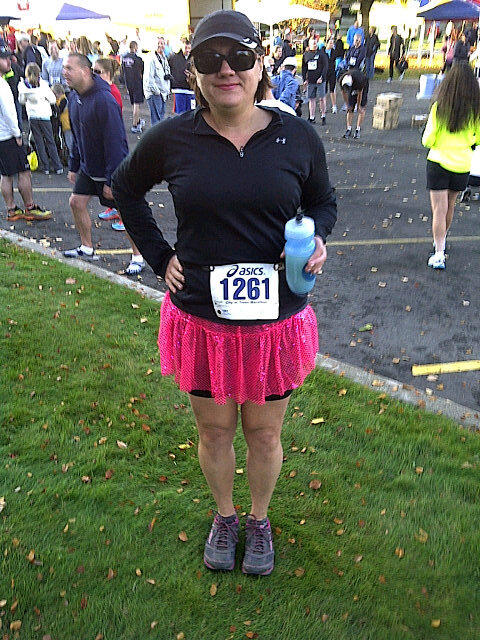 Brooks hat, Nike tank, UnderArmor long sleeved, Champion shorts, Team Sparkle skirt, Altra Provisioness shoes.
 The race started right on time. I don't know where I placed myself in the crowd because there were 900 people doing the half, but I think everyone around me was about my pace. My tum-tum wasn't very happy during the 1st mile, but I kinda just told it to shut up.
I went into this race with no time goals. All I do is just go with the flow. Whatever my legs feel like doing, I will do. After this 1st mile, I kinda felt like keeping with a pace goal. Anything under 11min/mile with the hope of a PR.
I was passing and being passed by so many people. It was easy to get around them even though the roads were not closed, the cars even seemed to be respectful.
The water stops were really slowing me down. I tried to not walk that much and tried to regain my time back after. I was always a few seconds off, but I kept pressing on.
I don't know how to negative split.
I decided to take both my gels since I didn't have breakfast. I thought mile 4 was a good place to take one and then another at 8 or so. From the look of my time above, I had my 2nd gel at 9.
I felt like I was totally cruising the first half. I didn't start to really feel anything getting tired until after 7. It was pretty tough to keep my miles at my goal pace after that. But the further I went, the more I knew I was on track to a PR. I was doing the mental math and kinda was guesstimating 2:20.
Since I was wearing the Altras, I was trying to land on my forefoot. I actually did ok for a bit but then my form went all out the window. On the sidewalk on Federal Way, specifically the downhill leading to Capitol, that was a real jolt. Landing on my forefoot didn't help the shock every time I landed. I do not like to run on sidewalks. Do not like.
The last 3 miles were tough. I just wanted to walk and catch my breath but I knew I was so close to being done. I mean I could have walked the last mile and still would have been at PR time. But I didn't. I just attempted to reel in the people in front of me. It worked on some people, but not all.
I barely got my finish recorded because the BF just barely got back to the finish line to record me as soon as I showed up.
I almost didn't get my bling. They cut off my chip from my wrist and no one handed me a water and my bling. I had to walk back to line to ask for my bling. I needed my bling!
At the finish. The bibs were kinda papery & ripped easily. I used more then 2 holes. (TWSS)
Got it! Chili (with cheese and bread) was available at the end. Along with fruit (apples, oranges, bananas, plums, nectarines) and some PBR. Not a huge PBR fan, but it was very welcomed.
I may have to do this race next year. Fingers crossed the weather isn't sketchy as it usually is for this race.
Did you run today? How was it?