This week, thankfully, was an easy step back week.
After doing the 16 miler on Sunday in my black Brooks PureCadence that I wore most of this year, my right knee and heel were very unhappy most of this week. Time to switch out those shoes for my blue pair, and I NEED to invest into the pink Brooks PureCadence's.
Monday: Rest
Tuesday: 4 miles scheduled, 4 miles completed
Post-run
I made sure to look as super sexay as I ran around my neighborhood. 
Wednesday: 4 miles scheduled, 4 miles completed
So proud of my mile times.
 I actually negative splitted. I am proud.  My legs were not quite awake but I am not complaining.
Thursday: 4 miles scheduled, 4 miles completed
Went to the clubhouse treddy & this is where my knee & heel was bothering me. I had to ice a couple of times afterwards before work.
Friday: Rest
So thankful for a rest day. So thankful and I will be getting more appreciative of these days in my heavier weeks. I actually went shopping. Braved the mall for a new bra (went down a cup size & needed a newer, although sadly smaller one. I am also searching for a new bed pillow. My regular pillow needs to be replaced, but where I got it at originally, isn't selling the type anymore. Buying a new pillow is one of the worst thing in the world.
Saturday: 6 miles scheduled, 6 miles completed
 So happy with my mile times. I really pushed on that last mile!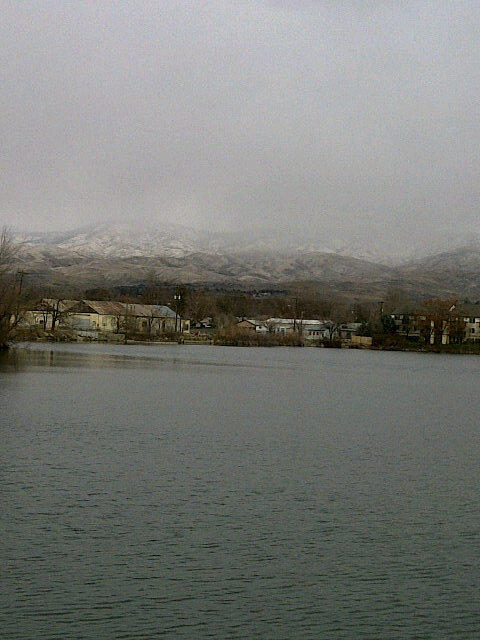 Snow is finally here
It was a cold hour out on the greenbelt. But my knee and heel didn't bother me. It was really hard to go and run (average 10:32 pace!) because it was so cold. But I did warm up and was quite sweaty after. I did make one of these after. Wow. I really recommend having one. Or 2.
Pre-run freezing
Sunday: 4 miles scheduled, 4 miles completed
I decided to do intervals today. Each mile went from 3.0-7.0.
0.0-.05 mile: 3.5
.05-.10 mile: 3.0 (drink water)
.10-.8 mile: 5.5
.8-.85 mile: 6.0
.85-.9 mile: 6.5
.9-1 mile: 7.0
I did that for 4 miles.
Then I went on the eliptical for an hour because 4 miles didn't seem like enough of a workout. 😉
I won't be saying that next weekend because I have a 20 miler scheduled!
How was your week/weekend?