My week started out on an emotional low but ended a whole lot better then it started. 
I really don't like to whine about my personal life, since this blog is about me running in Boise. But my personal life affected my running life to such an extreme this week, I have to share. 
I tried to share earlier in the week, but just didn't feel right, so I pulled the post. It still doesn't feel right and not really sure what to say. But gonna say it and whine a little bit. Sorry.
I wish I had a bunch of great running/fitness related presents that Santa left me to share with you all, but I don't. There was not a single present for me under the tree at my house. Let's just say that the BF, whom I have been with for nearly 6 years, didn't have a present for me. It was like Christmas never happened for me and this bothers me a whole lot more then it does to him.
Last year he gave me this. This year, I said I don't want that again, and so I got nothing. Yes, I gave him presents, which he is using this week after Christmas. I even wrapped all of the presents under the tree. I am sad/upset/angry/ect. And I may have overreacted about it just a little bit. Maybe. But I don't know how I should have reacted. Anyways, water under the bridge that I may have burned.
This lack of gift didn't hit me and bother me until I was 2 miles into my Christmas Eve 6 miler on Monday. Do you know how hard it is to run, with the wind freezing your face off (it was really cold!), while crying/trying not to cry?
I forced a smile for the camera. The wind was freezing on my face!
Monday – Christmas Eve – Scheduled Rest – 6 miles completed + 30 Day Shred
Wanted to stay active during my week off of work
Tuesday – Christmas Day – 4 scheduled – None completed.
I spent Christmas Day in bed. I said that I wasn't going into over to the BFs mom's house for dinner if I didn't have a present from him to open. And so, I spent the the whole day in bed watching season 1 of Arrested Development on Hulu. My Christmas dinner was Bear Creek cheddar potato soup and a chocolate peppermint martini. Festive!
And before I went to sleep, a glass of Apple Pie Infused Bourbon. I used Jim Beam & doubled the recipe when I made this on Saturday.
Wednesday – 6 scheduled – 4.75 miles. completed. It snowed the night prior and I really wanted to go run into it. Despite not taking a shower since Monday night, an overwhelming desire to finish off the bottle of Apple Pie Infused Bourbon and stay in bed, I put on my warm (unwashed) running clothes, I cleared the snow off of my car and headed out.
Snow!
I ran the first 1.5 mile but being so depressed and spending so much time crying, I didn't have the energy to run any more then that, so I walked. 
Thursday – 4 scheduled – 10 completed. I really wanted to run off my emotions. And I kinda did. I went to the BSU rec and attempted to run. No ipod or TV going to distract me. I just wanted to process my thoughts. And I did. It was weird. But this time on the treddy went by so dang fast! My sadness and my tears and my pity party turned off light a light switch. But my anger turned on. I have a hard time getting rid of anger quickly other then letting time dull it.
Friday – Rest
Saturday – 20 scheduled – 9 completed. This morning was the Hot Chocolate 5K. My last race of the year. And my 12th race of the year. I was really hoping to PR. The start of the race – cold. My recap is here. I PR'ed my 5K time by 3 minutes. FYI-that is a 10 minute difference from a 5K on 1-1-2012.
A PR on a race with a bunch of other runner junkies, really was such an emotional pick me up. Maybe I need to run a race when I am feeling very down?
After the race, I went home to warm up. I had a real hard time warming back up and venturing back outside. I did 6 miles on the greenbelt. It was lightly snowing-it was so pretty and quiet. But my face was frozen. I seriously thought my lip gloss froze to my face. I was C O L D!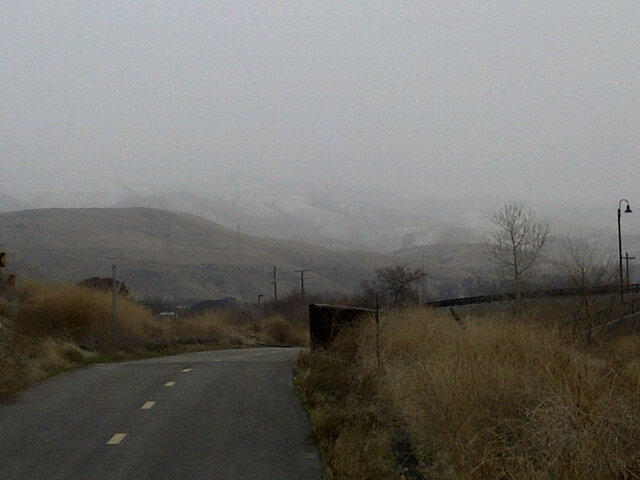 It's snowing!
Sunday – 8 scheduled – 11 completed. I was a couple of miles short from my scheduled weekly mileage. Went to the BSU rec treddy because it was snowy and icy outside. I didn't want to run in the cold again. Updated my ipod playlist and knocked out my miles.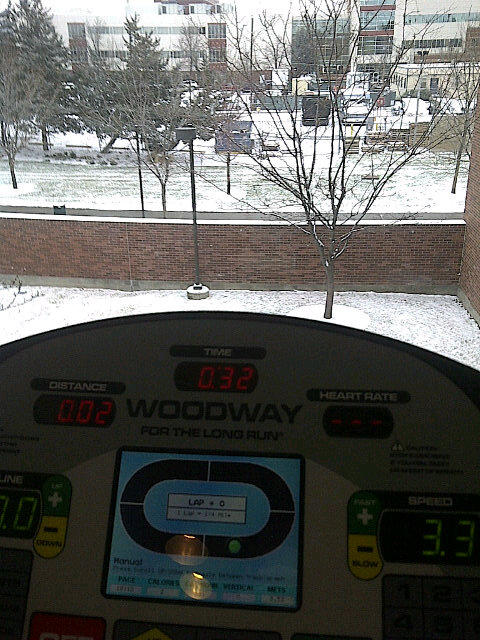 My treddy view
I really felt like I got my groove back that I was missing all week. I am still processing some thoughts but feel so much better then what I did just a few days prior.
And one thing that I noticed that I am so proud of as we end off the month- I have a month mileage record.
This may not be a whole lot for some people. Sure, I kinda slacked off a few months, but I was not following a plan. October, 39 miles. Ugh. But 79 miles to 134 miles in a month. Very, very cool for me. But have nothing but more miles to achieve in the rest of the next few months up to this 50K. I DO have a secret mileage goal, but we will see if I can work up to that by the end of the 2013 year.
I hope everyone has a wonderful New Years Eve. Stay safe and enjoy a glass of bubbly. There are big exciting things happening in 2013 for myself, and hopefully for you too!
What was your highest month of mileage? Do you like to run in the snow and or cold. Do you have any NYE plans? A New Years Day run?