Monday and Tuesday were sick days at home for me. I was nursing my cold (its strep) with a mega high dose of antibiotics (2 500mg 3x a day!?!) and thank gawd for the miracles of medicine.
And a hot toddy has been soothing and more then welcomed. 
Monday, I didn't get to watch the Biggest Loser, which was a bummer because I was actually home instead of work and the TV was on, but I was too busy forcing the BF to put together the new treddy he bought a few weeks ago. Its a Costco cheapie, its loud and takes up prime real estate in our living room. But it is in a prime location for TV watching, and to hook up a fan to blow on me during a run.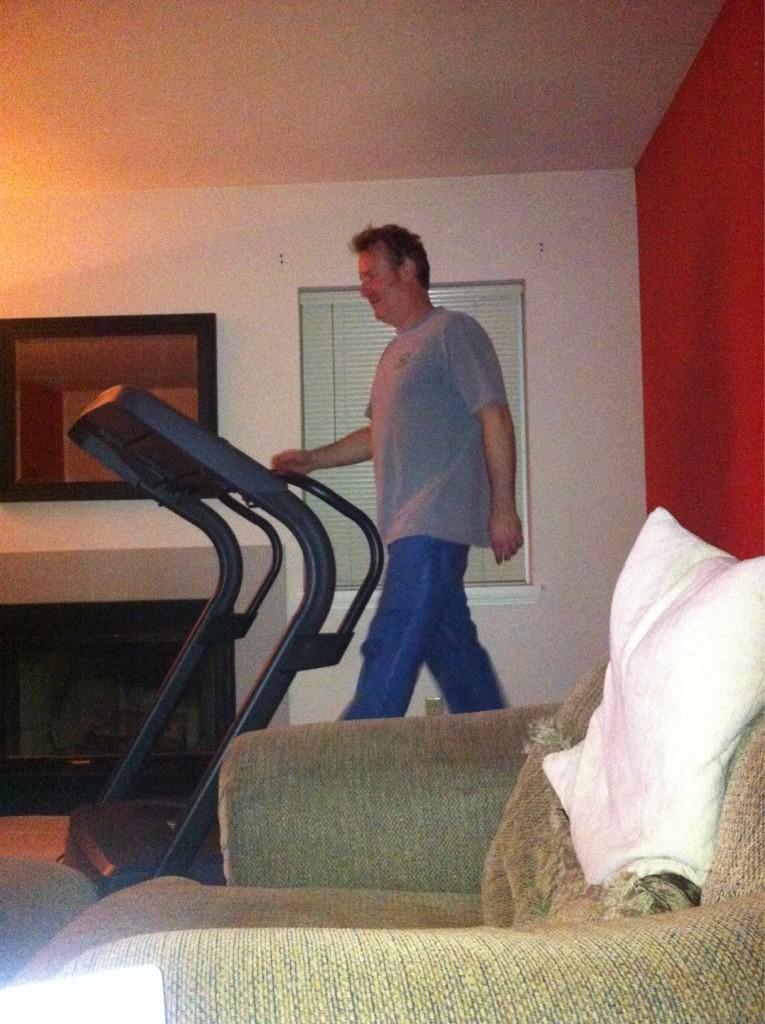 BF giving the treddy some late night love
And if for some reason, I am not working out hard enough, I can always start a fire in our fireplace and get warmed up.
Plan on me complaining about this because its not a Woodway. I could not for the life of me convince the BF to spend $3000 and buy me one. If I want one, I have to buy it myself, and since I am a cheapskate, I took what I didn't have to buy. 
And since I have been home, laying around, what is there to do? I watched season 1 of Louie, a few episodes of East Bound and Down, I am caught up with Californication, Nurse Jackie, Dexter. So I guess I should look at goodies I need for the higher miles I will be doing in February and March.
Next big purchase will be a running vest so I can take everything I need with me for my runs.
I plan on putting a McDonalds Cheeseburger in one front pocket and a Krispy Kreme doughnut in the other. That's like 600 calories of quick burning fuel and a whole lot more enjoyable then sucking down 6 gels.
Anyways, besides dreaming of cheezburgers, I did break down and buy some Skratch.
I know everything on the ingredient list!
I really liked this stuff. I bought some single serving packs from Shus a few weeks ago and I liked it well enough to buy a pound of the Lemons and Limes. I did like all the flavors, but I liked Lemon and Limes and the Oranges the best.
I know everyone is a Nuun lover, but is there another electrolyte drink that you consume?
My treddy has the iFit hookups. Does anyone use that? I guesstimate its a waste of $30+ to buy the modules, but just wondering if anyone uses it?