I had great news I have wanted to share with you for nearly 2 weeks now.
But I wanted to go to orientation, and meet with the group, get my official shirt ect ect to make sure it was a real deal – because I was so excited I was sure it was just a dream. Especially since I didn't get to be an ambassador of other companies that I willingly used and promoted on the blog and twitter throughout the year. Pouty face.
But I did get to be a member of Team Beef Idaho 2013. So freaking exciting!
I put in my application last year and was on the wait list since then. The team is currently full but you can still be put on the wait list. And if you want to run for Team Beef for the Boise Ironman 70.3, you really should apply!
I am not a vegetarian, and I will never, ever be. I do love all meat, (and all food stuff) no matter what animal it is, but I do know that beef is so important to so many people.

And I learned tonight at the orientation that there are more head of cattle in Idaho then people. Beef (and dairy) is THAT important!
A few key points about lean beef that I learned at my orientation-
3oz of lean beef is 150 calories.
Lean beef contains 10 essential nutrients including –
Protein: Eating high-quality protein, like lean beef, at each meal helps maintain muscle mass, supplies energy for your body, keeps you strong, and helps build and repair muscle tissue.
Zinc: Helps your body heal when you're injured and boost your immune system.
Iron: Helps carry oxygen in your blood, which you need to perform your best.
Phosphorus: Helps build strong bones.
If you see me at a local race, there is a good chance I will be in the shirt in the first pic. The BF called me a "beefy girl" and lots of jokes will be had about how much I love meat. Yes, I have been hungry enough to eat a whole cow after some of my long runs this past summer.
And I think I have came close a time or two. 😉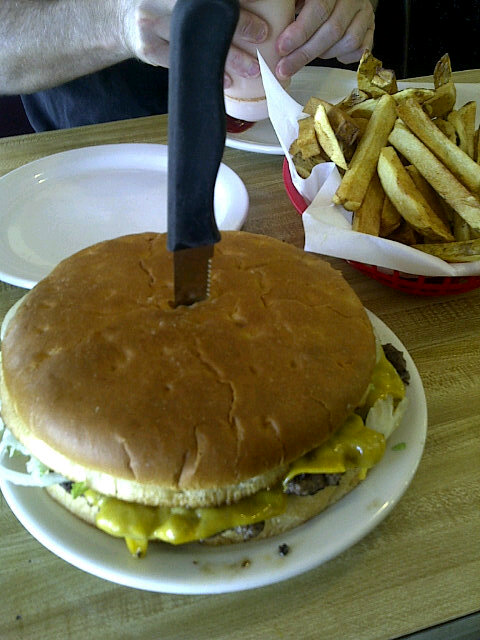 Big Juds 1 pound burger
Tell me something good about your week? What is your favorite way to eat beef?