Week 9. Wow. Seriously, wow!
I really felt that this was one of the best weeks I have had – but only because some of the crud outside thawed out a bit and I was able to get a few miles in outside.
But then that plague everyone is passing around got to me.
I felt it a bit on Friday night after I had a cup of green tea. I had that little tickle in my throat. I was hoping it was from the tea being strong. But it wasn't.
Monday – Rest I had the night off from work because of the holiday. I went to Meet Me Monday in downtown Boise to get a little walking action in. I also got 2 race registrations taken care of.
Tuesday – 4 scheduled. 4 Completed. I really think this took me well over an hour to get out the door and get to the clubhouse. I really enjoyed my rest day yesterday that it was carrying over to today. I slogged out my miles though.
Wednesday – 6 scheduled. 3 Completed. Another clubhouse treddy slog. It was a total treddy ADD workout. I did hop off the treddy each mile do a few reps with the dumbbells. I needed to mix up this workout so I didn't die from slogging boredom. I also played with the speed and incline on the treddy.
Thursday – 4 scheduled. 4 Completed. Yesterdays workout worked out so well (getting off the treddy and mixing shiz up) that I did 15 hanging leg raises at every half mile, and 10 burpees at every mile. In my personal opinion, the time on the treddy went by so fast, that it was, dare I say, enjoyable. I am going to be incorporating this method into a few more of my training runs during the week. I also took care of my registration for this silly 50K I am training for. I was the very first person to register!
Friday – Rest I really felt fine today. It wasn't until around Midnight that I felt that little tickle in the back of my throat. I am pretty self-aware and I knew what it meant. I really didn't want the plague but my coworker that I work the most with had it the week prior and was gone all of last week.
Saturday 22 scheduled. 22 Completed. Bam. 22 miles – done! I still felt that little tickle in my throat but I was not feverish, so I felt good to go. I decided to do this to kick this plague into gear. The sooner I get it, the sooner I can get over it. Since the weather was above freezing (37 degrees) I threw on my cold weather gear and old shoes and slogged over 9 miles on greenbelt. I really thought it was more cleared off then, but that is what I get trusting what the newspaper says.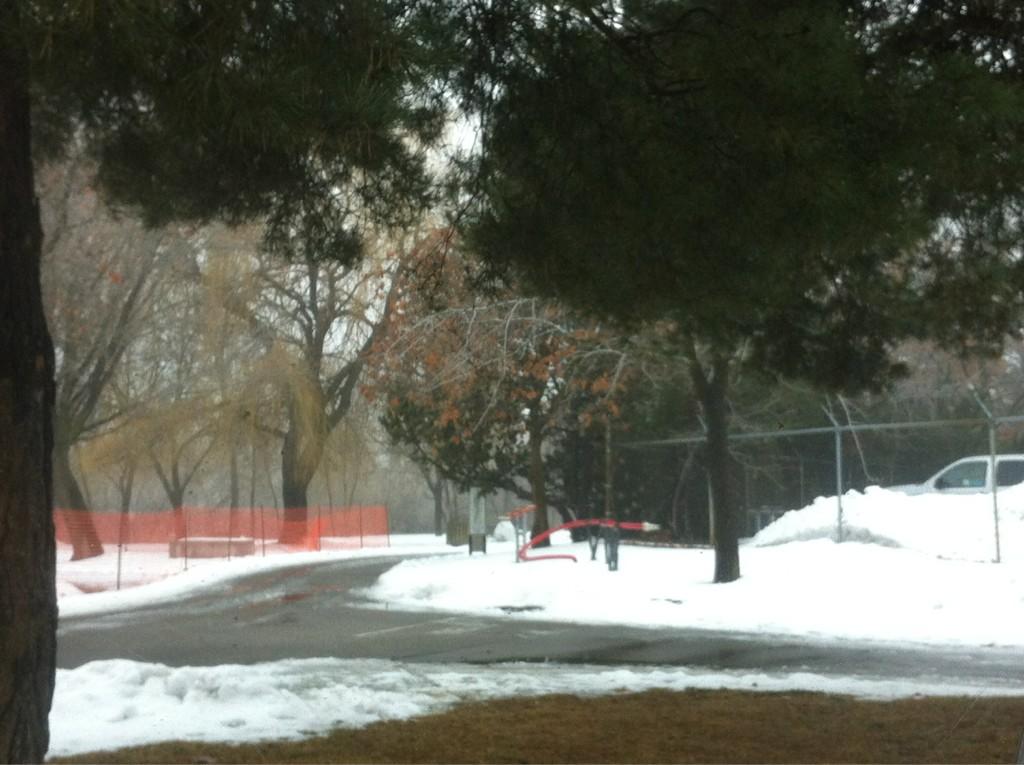 A good section of the greenbelt
It was pretty icy in spots, lots of huge puddles you had to wade through, lots of snow, and the Garden City side wasn't even plowed at all. That is where I slipped on my butt. But what was weird was running (11:XX pace) was easier on the ice and snow then walking was. Does that make sense?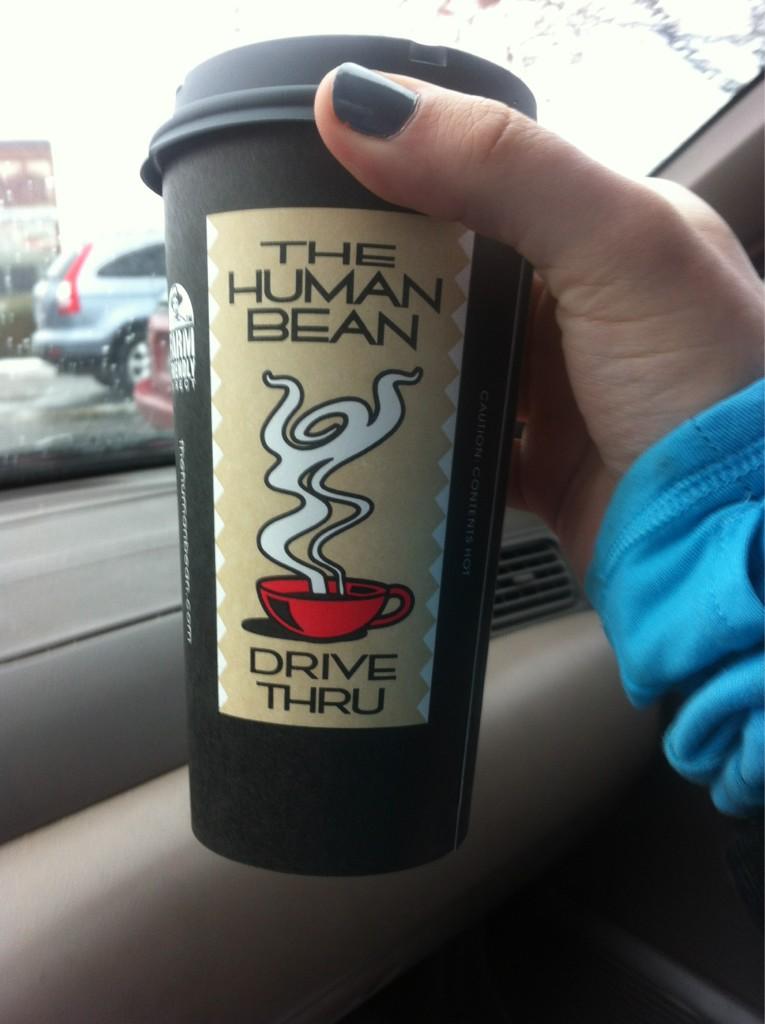 They gave me a latte instead of the mocha I asked for.
I had some coffee, went home and changed (I hate having wet shoes) and headed to the BSU rec where I watched big puffy snowflakes come down. I watched on male student walk by, tilt his head back and catch snowflakes in his mouth. I completed over 12 miles on the treddy.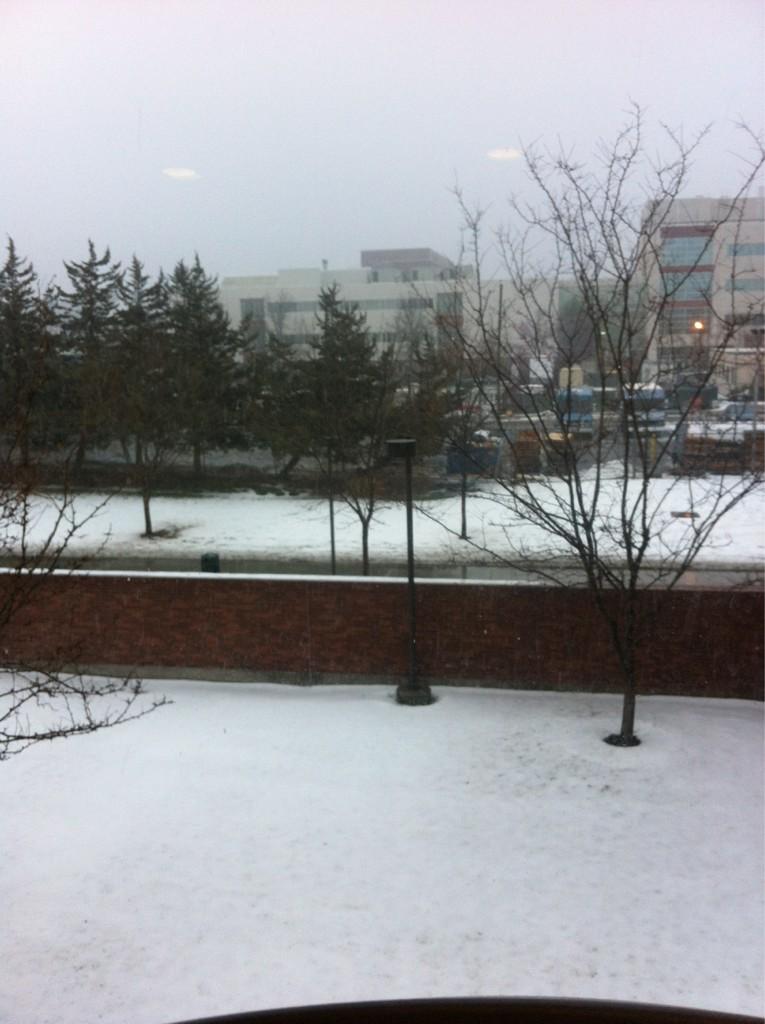 View from the treddy at the rec.
Sunday 10 scheduled. 0 Completed. I felt really stuffy after finishing my 22 miles. Really stuffy. And I finally got that fever I was hoping for. So I took some cold meds and slept for 12 hours. I was crabby and drinking water felt like I was swallowing razor blades. Definitely not going to work this upcoming week and definitely resting up. Thank goodness its NOT the flu and just a really, really bad case of strep.
How were your workouts this week? What is your favorite cold remedy? I may be making a hot toddy tonight. What do you do to beat treddy boredom? Do you mix up incline and speed ?