Woot woot! TGI FREAKIN F!
This week was rough. Tears at work on Tuesday because I got thrown into a job that was neglected for the last 4 months. And they are doing construction on the building, so breathing in all the construction dust isn't doing my lungs any favors. Headaches everyday and a huge knot in my shoulder I can't get rid of. I was hella overwhelmed, but thankfully my 8 miler on Wednesday sure helped me calm down.
Although I spent quite a bit of time searching for a new job on Thursday. 
The highlight of my week is a Valentine's Day themed race on Saturday. I am so looking forward to the Run 4 Luv race.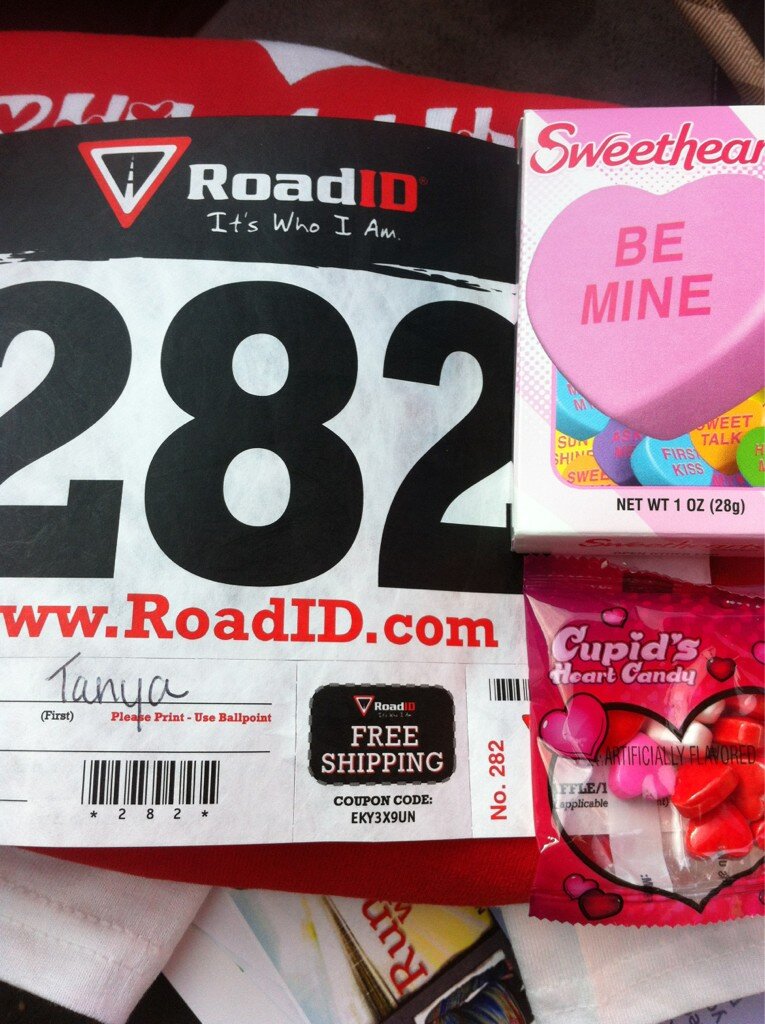 Race swag. Candy!!!
I am doing the 10K. And my scheduled long run for the day is 24 miles!!! Will I PR at the 10K? I don't know. If you would have asked me a month ago, I would have said yes. I planned on PRing and getting at least a minute or two or more faster. But after being sick all last week and my lungs not happy, who knows what Saturday morning will bring.
I do know what my Friday will bring.
I only have to spend 4 hours at work. 
I treated my friend to an early birthday lunch. And I got a hug after. We needed the hug.
I got a Williams Sonoma order I placed a day earlier then expected.
I have a free pizza coming from Papa John's.
I like pizza before my races. I like free pizza even better.
I will be having a couple of giveaways coming soon for all of you! Hopefully you are a blog and twitter follower!
My garmin is charged. My race gear is all laid out – including my new red sparkle skirt! My alarm clock is set for the morning. Coffee pot is set and ready. 
All this means this week really isn't all bad.
Are you doing a V-Day themed race this weekend? What do you like to eat on the day before a race or real long run?