This may be a fairly long post. 
You never know what will happen on race day. I say that a lot and Saturday just proved that to be true.
This week in training is a heavy week with Saturday being my 24 mile long run, with part of that being the 10K. I hydrated the best I could during the week. Stretched, elevated my legs after my runs, ate my typical pre-race pizza, had my garmie charged, all my gear laid out, and my coffee pot was all ready.
I think I got food poisoning from Applebees when I took my friend there for his early Birthday lunch Friday afternoon.
Grumble. I never eat there. I know it has been at least 7 years since I have been there. I go there one time and they try to kill me.
I woke up in the middle of the night with bad stomach cramps. Those horrible ones you get from eating something bad. I tried to ignore them and eventually fell back asleep, but they woke me up twice before my alarm went off. And when my alarm did go off, well, I sure didn't hit the snooze button!
I almost felt like I wasn't going to go to the race!
A glass of orange Skratch (immediately had an unhappy gut) and a small cup of coffee (another wave of an unhappy gut), I thought I was going to die. I had 2 bites of toast and that was even too much for the tum-tum. So basically, this was like any other race morning where I can't eat beforehand. 
I had stomach cramps on the drive to the park. But they went away before the start. That icy wind blowing may have helped me focus on something else other then a tummy ache. A quick warm-up trot and I was feeling ok.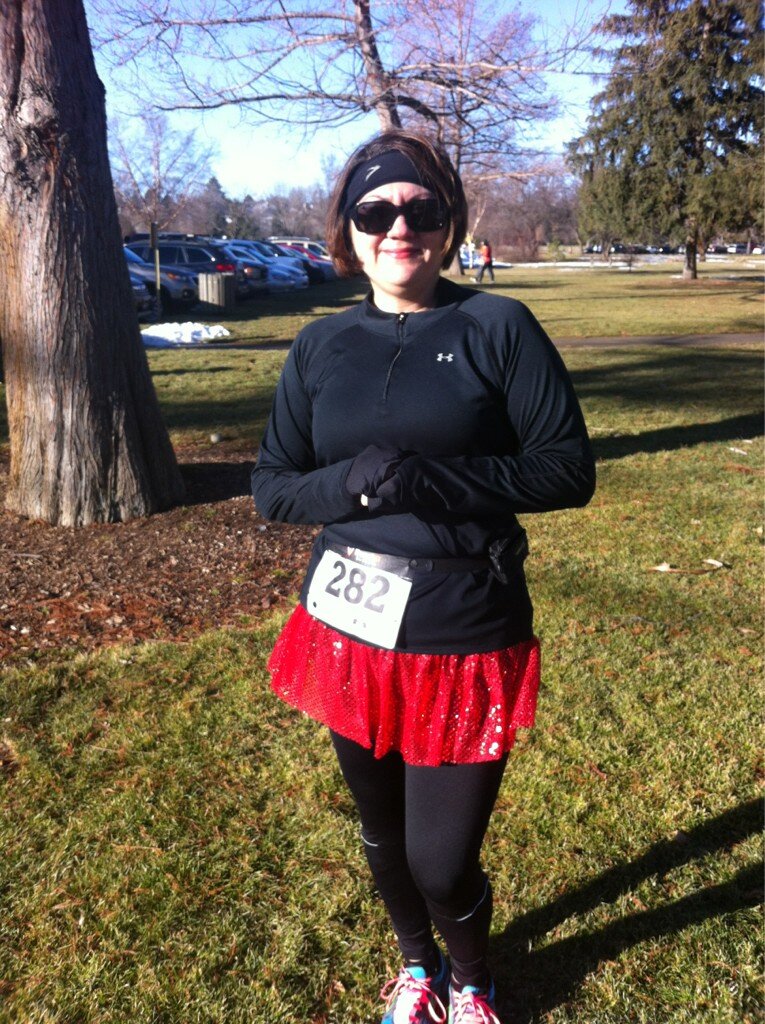 Before the start of the race. So cold!
The race started 2 minutes after 10am. And it was crowded at the start. At first I was just running comfortable and I didn't really care to look at the garmy. I looked at it when it beeped every mile just to check my mile splits. Things were looking good for a PR. My lungs and throat were not happy, I really hope I am not getting sick again, but only goal around mile 2 is to keep my miles around 9:45, since that was comfortable.
I am on the right side about 0:16.
I got a quad cramp near mile 3. That was unpleasant. It wouldn't go away. I am not sure what is causing them since my electrolytes seem to be ok, I am hydrated, I have been stretching more… I don't know what the deal is. So after the 3rd mile, I kept looking at my watch to focus on something other then an achy quad which was making my knee hurt.
Miles 4, 5, 6 were the same as 3. Achy quad, pace slightly slowing. Either way, I could walk the last half mile and still PR. But who really wants to walk to the finish line?
You would think this would be the first time I had the BF record me with the camera…
And PR I did. My last 10K was in July and it was a 1:07. I KNOW how hard those 11 minute miles were. It was so HARD to keep pace with a couple of other runners going that pace last summer. But now, 9:45 wasn't so bad. Saturdays 10K was a 1:00:38. My next 10K goal is going to get under an hour, baring any inconveniences of cruddy weather or injuries.
Don't shoot! I am unarmed! At 10K turnaround I think.
After the race, I did a quick trip home to get my camelbak and a quick bite to eat and headed back to the greenbelt to do more miles. This time, the wind picked up even harder then before – 24mph! I had to check before I left! Yeah. That was unpleasant. And my quad was unhappy and I just didn't want to run on it. So I walked 3 of those miles. But I got 6 more miles done outside, which left 12 to do on the treddy. Mentally, 12 on a treadmill is manageable for me.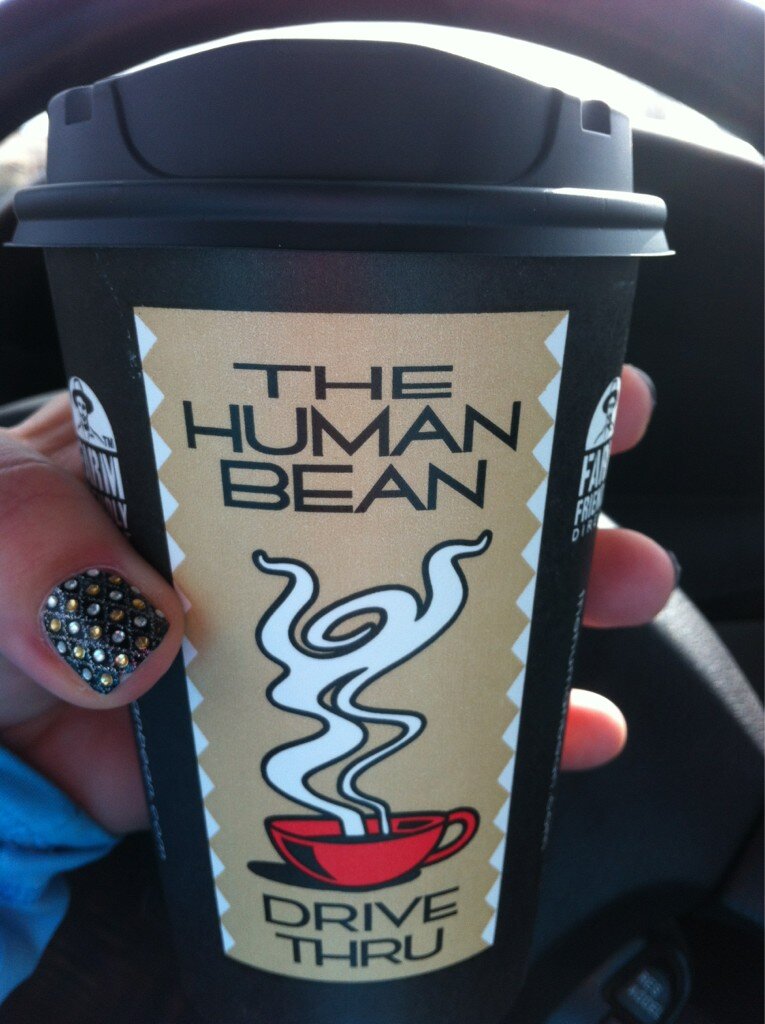 12 miler coffee pit stop
I walked all 12 miles with a couple attempts at a trot. I even ate a piece of pizza while walking on the treddy. I just didn't want gels or anything like that. I wanted food. And it worked. Maybe because I was walking instead of trotting but it was one thing that worked out for me for that day. I think if I was at anything then a faster walking speed, it just would not have worked for me. I think a side stitch would have happened. I re-watched some episodes of East Bound and Down. Man, there are some good lines in that show that just make me laugh. But it was more of a relief to just be finally done with so many miles for the day.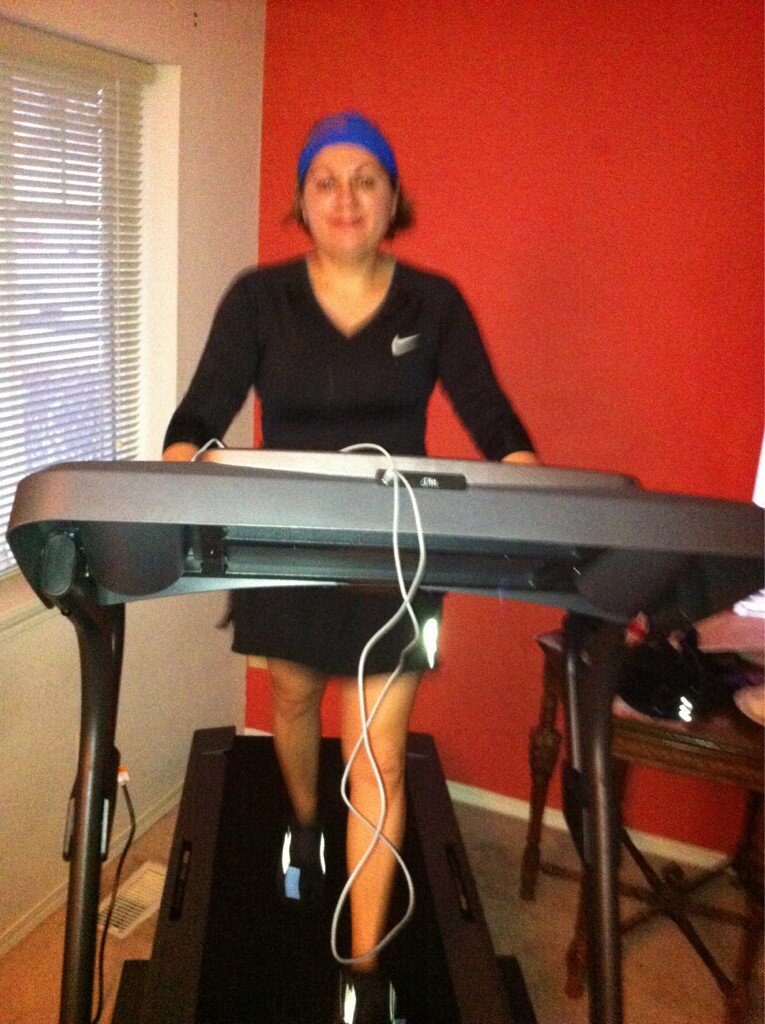 Walking it out at the end of my treddy shesh.
I did disgust the BF with how offensive I smelled. Sorry. I was eating a snack and stretching a bit BEFORE I took a shower.
A cool Epsom salt bath, and icing my legs and feet for however many hours (4+?) after I was done until I went to bed, really, really helped out my legs. I usually don't ice for as long as I did, typically twice during an hour before I go to work, but rotating the ice packs around the achy parts of my legs for so long really helped.
My quad still hurts, but what can I do about that? I really don't want to go see a doctor. What are they going to say? Stop running? Surgery? I guess if I keep having a prob I will have no choice but to suck it up and go to a doc.
When do you decide on going to the doctor for a possible injury? Did you run this weekend? What is the weirdest thing you have ate while on a run? Seriously, I am going to have to get a McDonalds cheeseburger and a Krispy Kreme. lol