Saturday was awesome. Minus the part where I fell right on my butt, hard! I slipped on a hidden patch of snow/ice that hasn't melted yet and just, BAM!
I am sitting on an ice pack because my left cheek hurts and I expect it to bruise or something. I don't want it to affect my Sunday run!
If you stop by here often enough, you know I don't like many things. I grumble about more then I should on here, but when I like something, I really like something.
I like Akinz brand of clothing. I had an awesome experience shopping on their site (they are not paying me here. I just paid my own money and really had a good online shopping experience I want to share here!) and got my order Saturday. I LOVE my Dangerous & Beautiful shirt that I bought. It so insanely soft and really love the print. I recommend them for any of you because I had such an awesome customer service online shopping experience with them. Plus I got $20 off of $30 from my Earndit.com points, but this is all about an awesome shopping experience. I bought another shirt, but the whole point of my order was to get this shirt. I really, really like it. Big ups to Akinz.
My weight is down 5 pounds this month, and 20 pounds from NYD2012. I don't know how but I really don't mind. My butt seems flatter (sadly flat, Conan O'Brien understands) and I can feel my ribs a little more. But I had to have pizza and beer for dinner. I am going to turn into a pizza with as much as I do eat…
We had the Idahoan (Alfredo sauce, parmesan, potato, chorizo, pepperoncini) and I didn't expect to eat it all but we did. And a pitcher of Crooked Fence Porter. Hit. The. Spot.
I told the BF I was going to post this pic because its bad. I took it mid-sentence. He was talking about something, Iceland volcano, Russian meteor, Hurricane Katrina, but I don't remember what. lol.
This was after I showed him the last pic.
Oh, and I ran 10 miles. It was so freaking nice outside. So nice!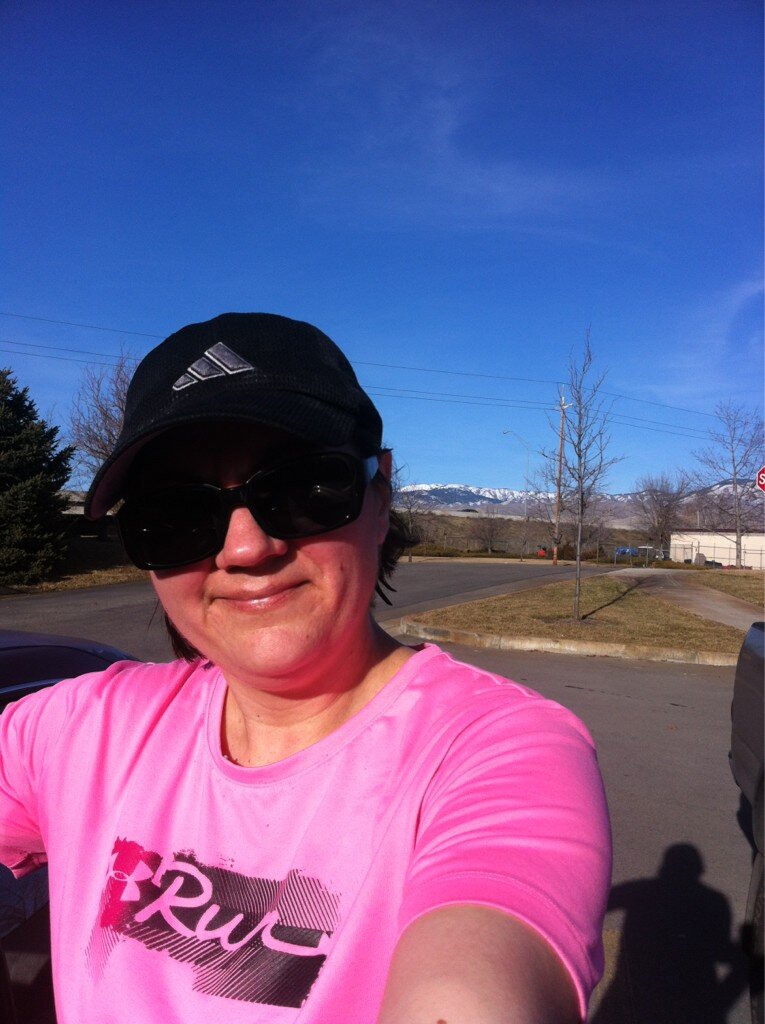 Post-run
Blue-freakin sky outside. And 50 degrees. Totally gorge. If you were a dude on the greenbelt, I was checking you out. Sorry to the chicks with their men on the greenbelt, but I was checking your men out getting their activity on. Young, old, skinny, fat, running, biking, walking, skateboarding, whatever. There was one dude (17y.o.?) who came up from behind me and started running my pace next to me. He made eye contact, waved, and said Hi, and I replied Hi, and he ran on ahead. He was adorable being all friendly and all.
But there were some good looking dudes out and about today. #I'mOnTheProwl
Maybe I feel good because I got to spend some time outside. Maybe because it is a 3 day weekend and I have a race to register for on Monday at noon. Maybe because its a cutback week and I have done other things other then run, walk, ice, eat, stretch, and prepare to do it all again tomorrow. But today was a good day.
How was your Saturday? Any really good customer service from a company lately? Tell me all about it!