Wow. Long time, no chat. 2 weeks behind on my weekly review. Life has been quite busy 'round here. I feel like I am either recovering, running, eating, job hunting, or planning each of those things.
However, thanks to all of that above, I did finally lose a pant size. This is my 3rd year of running, and my body is finally figuring out that it would be best if it used itself for fuel. Maybe it is because I am more committed to my workouts. Maybe it is that I am eating mildly better, I sure am not drinking less, (I make an awfully good martini!) but maybe it is that I kinda have cut (unconsciously) out most dairy and sugary gels. That is the only thing I can think of that I have been doing different. Using PB&J's as running fuel has been working on keeping me fueled without the side stitches. Raspberry jelly from Costco and Jif from the grocery store, not the most organic or natural, I don't care for various reasons. Although for this weekend, I may have to invest in something that doesn't have seeds as the raspberry does because they are not fun to eat.
PS. I don't like the smell of honey, so that is not going on any sandwich that I am eating.
Here is what I have been up to the last 2 weeks. Week 8 & 9 are my training weeks 13 & 14.
I was a little short on my mileage for week 13. My garmy actually died on my 24 miler outside. I think it made it a little over 21 miles. Frigin' thing.
And then I failed to finish 10 miles the Sunday after that. I only did 2. But they were a fast 2.
I guess blogging does help keep me accountable.
Week 13
Monday – Rest – 3 Miles done. I went to Meet Me Monday and did a little over a mile. Then I bought Hokas and did 3 miles on the treddy at home with them. Can I say that I am in love? Serious!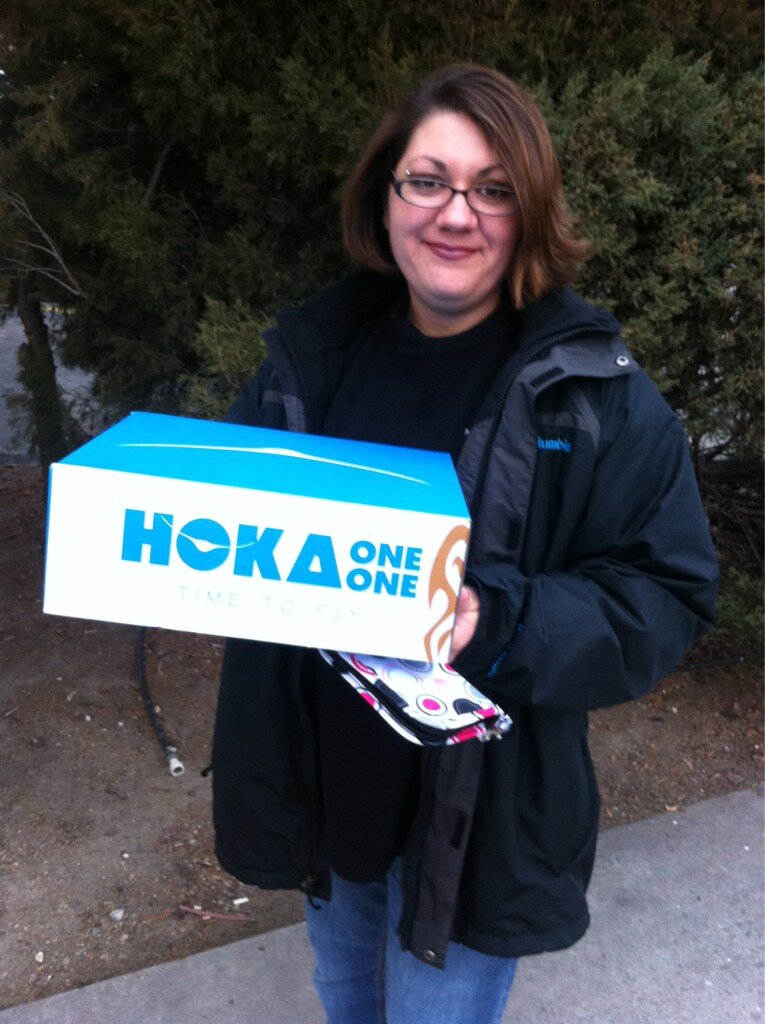 Me with my first pair of Hoka's. 
Tuesday – 4 scheduled – 3 miles done.
Wednesday – 10 scheduled – 0 done
Thursday – 4 scheduled – 3 miles done.
Friday – Rest
Saturday 24 scheduled – 21 done. I actually walked all of this because I…
1. wore my Brooks PureCadences since I thought I would encounter puddles outside and didn't want to ruin my Hokas in the first week. Yes, I did have a puddle and had a wet foot from mile 6 on.
2. spent the whole time talking. I can't talk and run at the same time.
Sunday 10 scheduled – 2 done. They were a fast 2. I really thought I was gonna be able to fit in the 8 later in the day. Nope.
Week 14
Monday – Rest
Tuesday – 4 scheduled – 4 miles done.
Wednesday – 10 scheduled – 8 miles done.
Thursday – 4 scheduled – 4 miles done.
Friday – Rest
Saturday – 10 scheduled – 10 miles done.
Sunday – 8 scheduled – 8 miles done.
So, that is a quickie roundup of the last 2 weeks. Now, on to find something to eat and apply for a new job. The BF isn't helping with making meals for me so I am left to fend for myself. Yesterday was a banana with PB for brekky and sweet potato fries for lunch. I got no time to cook!
PPS. I will be rocking this new GPS watch to replace my sad garmy, fingers crossed for my 26 miler on Saturday. Isn't it purdy!?! Thank you Soleus!!!!!