Saturday evening was the Boise Glow 5K, which was a benefit for Cushing's Disease. This race is my first of 4 races in 4 weekends.
I can say that I had fun. There was no stress to this race whatsoever. I just wanted to go out, see what my legs could do, and have fun.
This race started in the evening – 8pm. Really it was more like 8:30pm but that was fine. It was a smidge darker and the more glow you could see with the sun down. And this was my first real late evening race too. But I ate lightly during the day, I didn't hydrate with water as much as I should have but everything did work out ok.
Boise School of Rock was playing when we showed up. Oh yeah, parking wasn't an issue.

I did have some issues with my glow sticks. I safety pinned them to the hem of my skirt and they didn't want to stay.
Eh, good enough. 
The front glow sticks came off during the run and the back set of sticks stayed.
These were really the only good pics the BF took before, during, and after the race. He could not get any shots of me for whatever reason. No start or finish line videos this time around.
The start, like I said, was late. I'm cool with that. The only problem was that I had my GPS all set up on my watch but the start took so long that it shut off twice. So I had to go GPS-less. My time for this race was 26.54. But I did cross the start line at 14 seconds, so that puts my 5K time at 26:40? Yea. I'm cool with either time. But I just ran this race. It was all by feel. I had a slight side stitch about a mile into this but really just ignored it. My legs felt good. I got sweaty.
I had to take my jacket off and had it in my arm covering my watch so I could focus on the run and not my time. I felt like I was slowing a bit on that last mile, and got passed by a few people. But that's ok. I passed quite a few people at the front half of the race by running on the grass instead of the greenbelt. And on those slight inclines I could power through a bit easier then most.
I didn't realize dude was so close behind me at the end. I didn't look behind me at all.
But I finished and I am proud of my time. I had fun.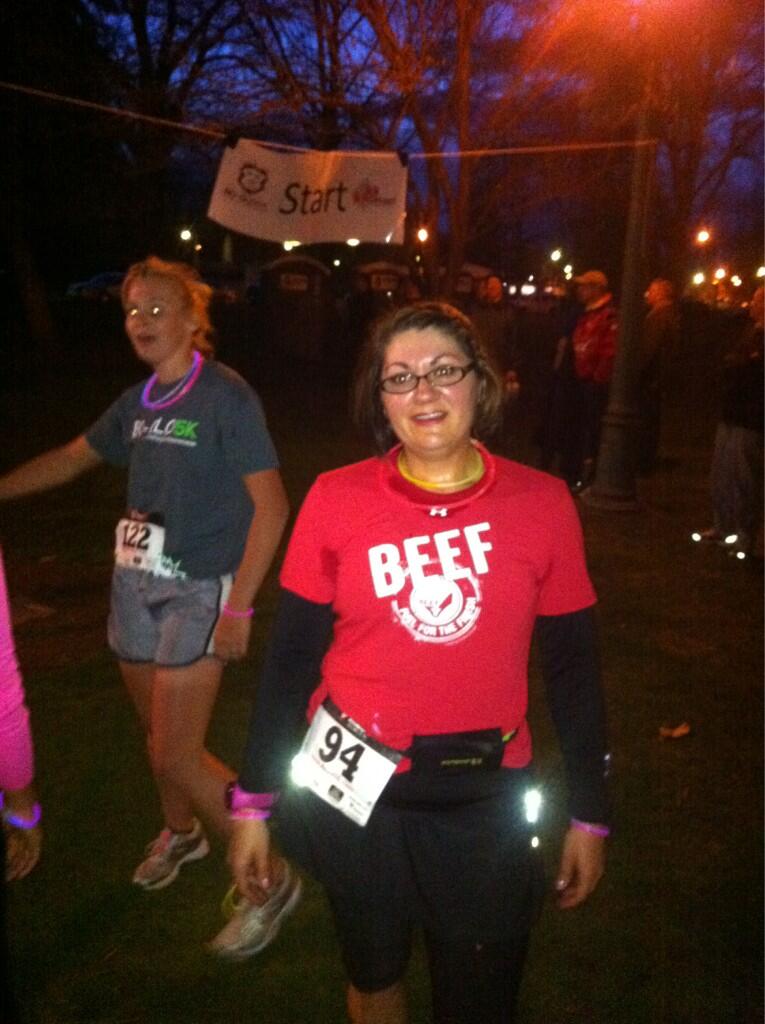 Sorry to the girl behind me. Ha!
The BF and I went to Casanova's for a post-race Picket Fence beer.
Now, if I can do this time for Beat Coach Pete this upcoming weekend, I should be able to beat him.
How was your weekend? Have you ever participated in a night race or a glow in the dark race?