I completed my first ultramarathon this weekend and I am now officially an ultrarunner!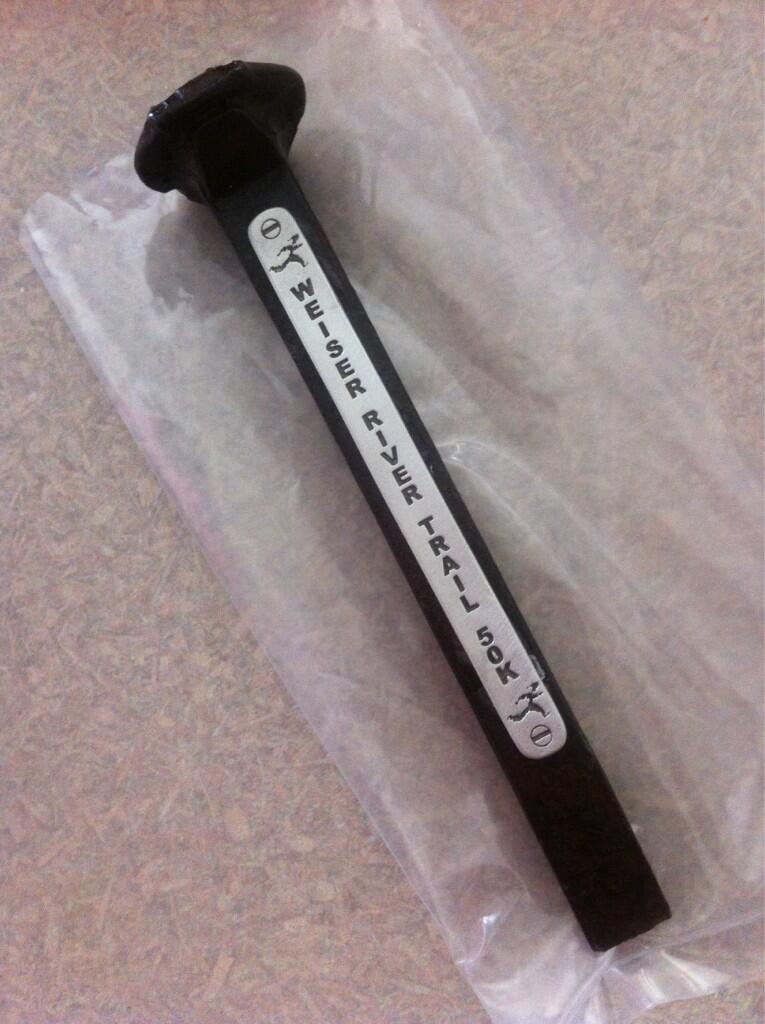 My finishers Rail Road Spike
I want to start off saying that ultras are horrible. But they are so F'n awesome at the same time. Not quite like a marathon, but just as addicting. Will I be signing up for more ultras? Yes! But have lots of other things to consider first. Like, having more support whether from BF or new friends and possibly a new job. I felt all of those were just not optimal for being fully focused when I needed it during this last few months of training.
My time was a slow and sloggy 7:15:55. I walked WAY more then what I wanted. And it was warm and I got sunburnt – totally my fault for throwing sunscreen on my legs and face but NOT my arms! And I chafed the worst I have ever chafed. Half was from my pack, half was from walking/running for hours with and without BodyGlide on spots. I would love to be perfectly honest with some of the bad aspects here, but don't wanna go all TMI on you all. I think the BF was grossed out by forcing him to look at some chafing I had. Anyways, email if you want deets as an FYI.
I was hoping to be finishing around 7 and to be at the 26.2 at around 6. All those goals were completed good enough and I am happy with it. 
I drove 2 hours from Boise on Friday, after getting Casanovas Pizza to take with, and stayed at the Frontier. I picked it since it was basically in the middle of the race. Nothing fancy and it had a fridge and microwave, which are always welcomed in any place I like to stay in. Downside is the cell reception really sucked. I had one bar, to two bars, to none. I had to drive down the street to get good enough reception to text the BF saying that I made it safely.
Pre-race morning pic
When I got back from doing that, I was looking at this spider near the door of the motel as I was stepping into the room. I whacked my left knee so hard into the door frame. I thought I was gonna have to drag my leg behind me during the race. It hurt so bad and had a little bump and bruise forming. It hurt to bend it. I was concerned but turns out everything else was hurting during the run that I totally forgot about it about 3 hours in.
At the start
I started the race about an hour early, just because I wanted to finish around 3pm. I think I started at 8:06 am and would have been happy with starting earlier, but it all worked out. It was glorious being alone on the trail, with it still cool, the birds active and chirping. It took about 2 hours for the regular starters to catch up with us (I early started at nearly the same time with another lady and we were nearly the same pace the whole race, but she finished about 15 minutes before I did)
I felt fine. Warm, really thirsty, possibly a little too overly concerned with how my body was feeling. I felt like I was always eating or drinking. Which was good because at the end, I did not feel like doing anything. I started out taking a bite of something every 2-3 miles, my PB&J with some chia seeds, which worked during training. I had 3-4 M&M's at the top every hour. I also grabbed pretzels at an aid station for some salty carbs. This may be the only time I will ever say this but I was kinda getting tired of putting things in my mouth. I went through my pack- 70oz of water, before mile 20-21. Somewhere around there. I never counted my calories but I am sure it wasn't enough per hour. I never felt sloshy but I did feel like my gut was bloated at the end.
I felt like my legs may have not of recovered enough from Robie to be fully functional and they wanted to be really achy and crampy feeling from mile 9 on. I was kinda pissed so instead of having to crawl at mile 30, I just decided to walk/trot. Which eventually turned into a full on walk. I only ran at the end because I seen the finish line (which was further away then what it looked!) and there was a garder snake spread out 3 feet across the trail. I tried kicking rocks at it. It didn't want to move or it was dead so I had to run past it.
The hardest part was I just could not shut off my brain. I turned my ipod on around 12-13 and did my best to zone out into the tunes but no zoning out happened. I was so present in the moment. I mean, it wasn't a bad thing and 7 hours went by pretty fast. Well, except the last 2-3 miles where I was REALLY in a funk. I didn't want to run because I felt I didn't have it in me, and I just wanted to be DONE. I can say it was a whole lot better then being stuck at a day in the office.
I really took in the scenery at the first half. All the bridges that crossed the creeks (4 pics up) said which creek you were crossing and how many miles on the trail you were and elevation. And one bridge was at a county line so it let you know that too.
The back half I didn't look at anything around me. I was mentally miserable. I hated how boring the scenery was around. I was feeling kinda lonely.
As you can see of the trail, it's groomed rocks and dirt. I am SO glad I wore gaiters. I know I would have gotten a rock or something into my shoes and I would have been miserable. No blisters and no messed up toenails. My feet were in better shape then, say, bra line area where I had a band of chafing all around.
My Soleus GPS watch held up the whole time. I thought it was pretty accurate for speed/time/distance but my pace started acting a little wonky near the end. It wanted to say I was doing this speed or that, but each lap (I have it set for mile lap) it acted normal. It was either battery was getting low or it was because I was out in the boonies. But the quirk was all tolerable. 
Aid station popsicle – mile 22-ish. So tasty and welcomed! Pretty much the last bit of calories I had until the end.
Last pic I took of my adventure because my runkeeper app and taking pics killed my phone battery. I didn't even take one of me at the end because I had no phone battery or physical energy after.
I got my race swag, (shirt I didn't get before the race, and my finisher prize) burritos at the end of the race, and only had half of one, a chocolate milk and some OJ. I had no desire to get anything else in me. I laid on my blanket in the shade and spent some time stretching my legs, while listening to the winners of the race and the raffles at the end. I won a Cabelas multitool, which is cool. I really felt the race was well put together and all the volunteers were awesome. So helpful!
Runkeeper mile splits
You can see where I really fell into a funk at mile 13 where my time just tanked after that. 
I was ok once I got home. I felt pretty good at home. Amped from being proud of myself, and so tired from being in the sun all day. I had a packet of ramen (hate this stuff, but always sounds good after a long run) and some biscuits and gravy. I was in bed way early and slept the best 11 hours of sleep I have had in so long.
Sunday, I had slight DOMS, mostly in my hips and hammys and quads and upper back. I spent quite a bit of time stretching and Monday it was business as usual with it being like I did nothing all weekend. No aches or anything. So weird. I did need quite a bit of sleep the past few days, although I am not complaining about that.
So now, the next race for me should be in about 2 weeks. A half marathon. And I may be doing 10 more races until Christmas this year, (some required as a race ambassador, some I have to do for Team Beef, some I just want to do because I love the race) but I would love to fit in another 50K.
Tell me about your weekend? Did you run? What do you do when you get into a mental funk while running or training? Which 50K should I consider later this year?