I owe you an race update for the Twin Falls Rim to Rim race. I had a great time at the race and it felt good to be in a race after what felt like forever after not being in a race.
Post Race
But since it was uphill and then flat and then 10% grade downhill, then flat, then slightly up, then down, then flat, I think maybe the downhill was what made my knee cranky.
It hasn't been bothering me but I also didn't stretch post race. I have been making sure I have been stretching post run.
But during the recovery of this race, my knee went back to crabby. A little swollen, but no pain. My knee braces and sleeves are in storage and this week I have to rummage around in the boxes to get them.
I have been icing and feel the need for foam rolling. No foam roller around so I am using a softball bat. Talk about hurt so good!
Today the BF found an old tub of DMSO gel. WTF is that?
First search – ebay and all the tubs are selling. Next search, Dr. Google.
I found this Daily Mile post a little easier to read and more relevant to us athletes then WebMD.
First off, unlike aspirin or Ibuprofen, DMSO is a topical ointment. It's applied to the skin over the injured area, and has the remarkable property of being able to absorb through the skin almost instantly. It's clear and colorless, and has been around for well over 100 years. Strictly speaking, it is an industrial solvent, but it's medicinal properties have been studied since the 1960s. It has also found use in the veterinary community as a liniment for race horses, but has never been FDA approved for human use as a general analgesic.
Some of how it works is well understood, while some things about it remain a bit mysterious. First and foremost, DMSO has the ability to quickly combine with water. In an injury with pervasive inflammation, this can be key. Inflamed tissues are filled with water, and this inflammation can lead to more inflammation and further injury. DMSO can draw the water out of inflamed tissues and reduce swelling very quickly. This property also allows it to quickly absorb through the skin, and sometimes people will add other medications to it (such as aspirin) which will then "ride on the back" of the DMSO through the skin.
I scooped some out and put it on my right knee. You can see how swollen it is compared to the left.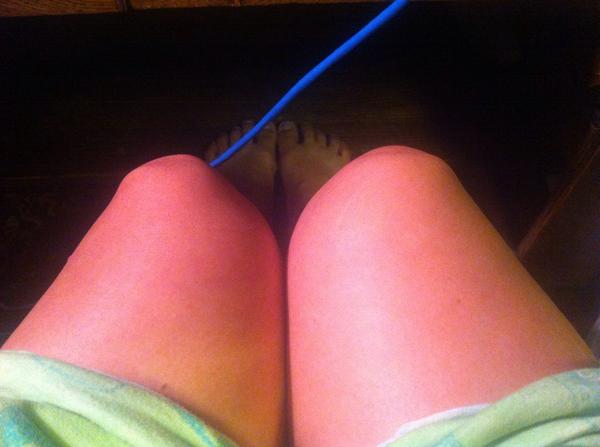 My knees
I don't see much difference a half hour later in my knee. BUT I had some DOMS in my HANDS (I need more cross training!) from using an axe chopping trees on FRIDAY and that actually went away about 90% from what it was before. So I guess I will have to slather myself in it after races to prevent DOMS.
Have you tried this DMSO stuff?