I got a wild hair on Friday afternoon!
I wanted to make a running skirt!
I have access to a sewing machine in the house and although it has been 15 years or so since I have sewn, I figured it couldn't be that hard!
I have only a couple of skirts and I actually wanted a black one. Plus I have a race next week and I wanted to make a new sparkle skirt to wear. I am looking forward to making the skirt because I think it will be easier then the race.
OK – FYI. I don't have any idea what I am doing, mmkay. I never grew up in a sewing household and it took me at least an hour to figure out how to thread the bobbin into the machine. The only things I have ever made were pillow cases, a quilt for my son when he was a toddler – which as super cute and a pair of pajama bottoms for me. Which were pretty comfy and awesome. So if you have ANY sewing tips, they are greatly appreciated. 🙂 kthx
I got some fabric at Jo-Anns. I bought a yard of black spandexy and a yard of sheer red sparkle on clearance. With a 20% off text message coupon my red sparkly fabric was basically free since it was $3 a yard on clearance. The black spandexy fabric was $12.99 a yard, I think.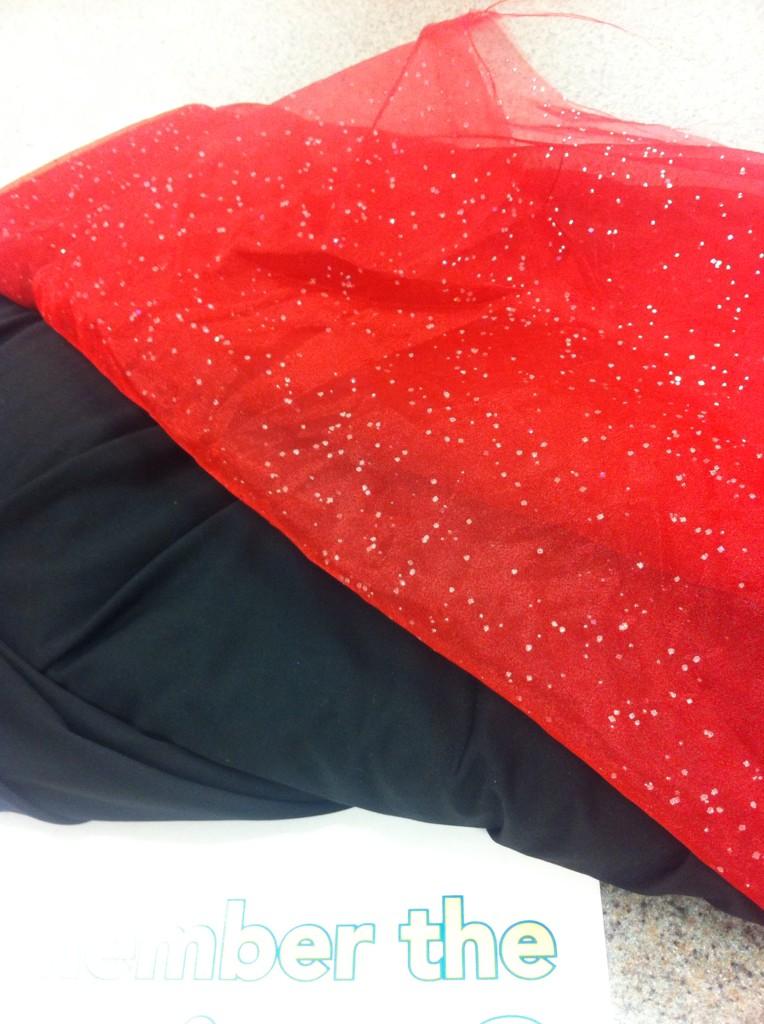 My Fabric
I then went home and searched the interwebs on how to make a skirt. IT can't be THAT hard since its basically a piece of fabric with some elastic in the waist.
I started to follow this youtube on how to make a simple skirt. Since I was having issues with my stretchy fabric – the ends kept rolling up – I just went with throwing my favorite Athleta skirt on top of the fabric and using that as a pattern. Which is the original plan of what I wanted from this black fabric anyways.
A few years old but I LOVE it!
I first started with sewing the sides together. It went ok but I was having problems with the stretch of the fabric. Fabric kept walking and stitches kept getting missed. This sewing machine is older then me, and I could not figure out how to change the stitch settings. That took at least a half hour of trying to find the manual online for free. And I still could not figure out how to change the stitch setting. It worked on a cotton jersey fabric as a test but on the spandex it would only do a straight line stitch.
Seamstress Tanya
Oh well. I guess this was a test skirt anyways.
Then it came time for the hem. Yea. The hem. I spent at least two hours on. Which is totally redonk. The youtube said she made her skirts in a half hour! I went back to the computer and looked for bloggie help. I found this site and maybe a fold over elastic might help the top and maybe I could have left the bottom hem rough but I don't know. Life was difficult for me and I made a vodka tonic. It was like 10pm on a Friday night.
I did up the hem. Then I didn't like it so I did it again. Then I folded that up and tried to have a nice hem showing and not the rough uneven stitches. But I gave up. My thread kept breaking even though I was trying different tensions – none would work. I think it kept breaking because the end of the fabric that rolled up was too much for the machine. I just decided to undo the nice hem I was attempting to do and go with the rough stitching.
Sewing perfection
The elastic waistband was the easiest part so far and the stitching and the machine worked well for me there. Its not straight and even but its done up enough. Like I said, this became a test skirt for me and I already gave up on selling this on etsy.
Around 11pm – I think I started this at about 5:30-6pm – I finished! Yay!
It's not pretty close up, but it fits ok – I measured it right. It is what I wanted besides the crappy stitching. I still have enough fabric to make another skirt so if I am going to make a nicer one I still have the option!
I am hoping the red fabric will be easier to sew. Its not like the regular sparkle skirt fabric – They are kind of like hard glitter crystals. The lady at the fabric store said the sparkles will break my needles unless I use round tip needle. Do I have that needle? I don't know. The BF said file down an old needle but I should have one in my new sewing cache.
Next project will be to turn this fabric into something like this …
Thankfully there are some crafty running bloggers out there to help! I found this site AND this site! Yay!
Do you have any spandex sewing tips? How to you make your edges nice? Is it easier to make a skirt or just buy one? If you sew, where is the best place for spandexy running skirt fabric?